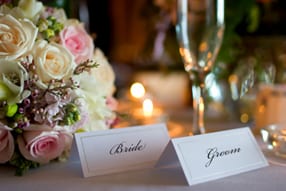 As a wedding limousine service in Cleveland, we understand that you have a choice in providers. What you demand is a wedding limousine service that stands apart from the rest; one that offers those extras that you just can't get anywhere else.
You demand reliability because the embarrassment of a limousine that arrives late is simply not an option.
You demand safety because we will be transporting you and your beloved on the most important day of your lives together.
And, you demand a luxurious limousine that enhances the romance of an already beautiful day, driven by a chauffeur whose professionalism and demeanor are second to none in the business.
At A Star Transportation LLC, we can meet these demands, and more. As Cleveland's most reliable and trusted wedding limousine service we know that everything we do has a direct impact on you and your wedding day. And, if we are also transporting your guests or families, we know that our actions and professionalism are a direct reflection of you.
With A Star Transportation, you are bringing a company into your wedding day with an impeccable reputation for excellence and a level of service that has raised the bar on what providing a limousine service in Harrisburg actually means. We are proud of our ability to provide perfection where others simply settle for "good enough." While you might be "just another wedding" to another provider, with us you are treated with the knowledge that the future of our company rests on making sure that you are nothing less than ecstatic with our service.
Our chauffeurs are well aware of the role they play in your day. A Star Transportation chauffeurs are unmatched in their professionalism and their ability to adapt to any situation. Your chauffeur will be smartly dressed and an excellent communicator. Your wishes will only be a simple request away from being fulfilled. Whether that means taking a lap around a park to enjoy the view or having the limousine filled with roses prior to arrival, we are here to serve you.
We understand that this decision is not taken lightly and we invite you to contact us with any questions you might have prior to booking your reservation. We will be happy to discuss your particular wedding with you and ways which we might add to it through our service.
Congratulations to you on this most wonderful of occasions! Thank you for reading about what makes A Star Transporation LLC your ideal choice for a Cleveland wedding limousine service and we look forward to speaking with you!